CICC's Head of the UAE Preparatory Team Attends China•Hainan Free Trade Port - the UAE Promotion Conference
On September 15th, Richad Soundardjee, CICC's Head of the UAE preparatory team, attended the China•Hainan Free Trade Port - the UAE Promotion Conference in Dubai, and delivered the speech as the corporate representative.
This promotion conference highlighted the theme of Exchanging New Developments and Sharing New Opportunities. It was jointly hosted by the People's Government of Hainan Province and the United Arab Emirates Ministry of Economy, aiming to introduce the policy advantages and new investment opportunities of the Hainan Free Trade Port and establish a platform for mutual cooperation between the two regions.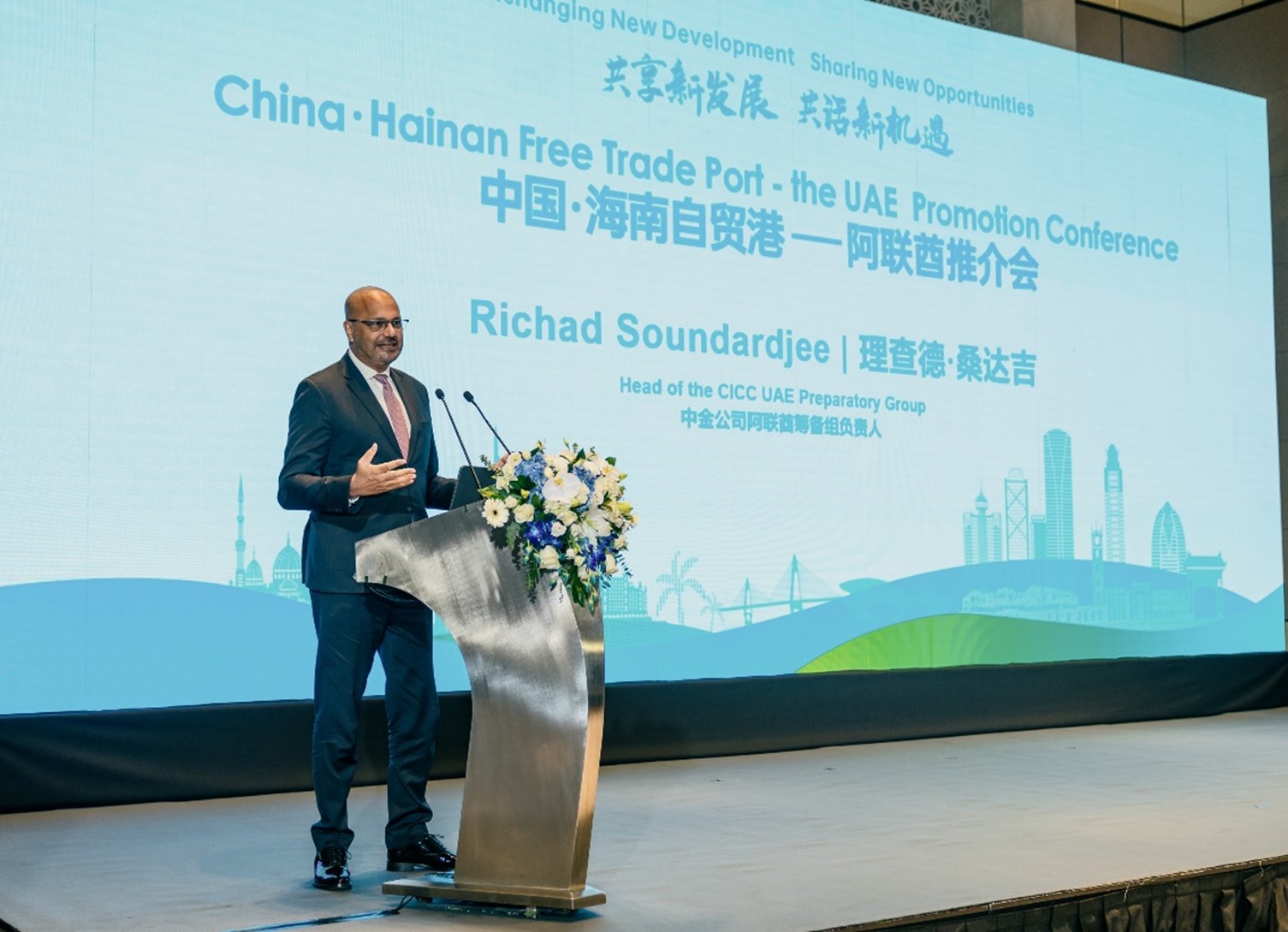 Richad said in his speech that the fundamental nature of the Chinese and UAE economies makes the two regions highly compatible along the critical dimensions driving modern economies. Chinese companies in high-tech, new energy supply chain, and electric vehicle industries are actively expanding their global footprint and increasingly recognizing the Gulf region as a preferred destination to establish new bases for their overseas expansion.
Richad highlighted that Hainan Province had provided a welcoming place for foreign investments in the past few years, making it a region with great potential in the eyes of investors from the UAE and the Gulf region. CICC will continue to promote bilateral cooperation and investment opportunities, facilitate cross-border capital flows, and strive to be the gateway between China and the UAE.
This promotion conference gathered many important speakers, including Xiaoming Liu, Governor of Hainan Province, Xuhang Li, Chinese Consul General in Dubai, Bin Zhang, Director General of The Department of Commerce of Hainan Province, H.E. Dr. Thani Bin Ahmed Al Zeyoudi, the UAE Minister of State for Foreign Trade, H.E. Dr. Mohammed Alzarooni, Executive Chairman of Dubai Integrated Economic Zones Authority, Mr. Abdulla Al Hashmi, Chief Operating Officer - Parks & Zones DP World GCC, and Omar Hosari, Co-founder and CEO of UAS International Air Travel Services, among others.