CICC Wins Honored Companies in 2023 Asia Executive Team
Institutional Investor just released the complete 2023 Asia Executive Team award list, in which CICC achieved great results by leveraging its outstanding corporate governance, leadership, investor relations capability and ESG performance. CICC won the heavy-weight title of Honored Companies in Asia again, as well as capturing awards in many important categories, such as Best ESG, Best Company Board, Best CEO, Best CFO, Best IR Program, etc. The result is a tremendous achievement among the peers in the market.
Below is a list of awards that we obtained this year: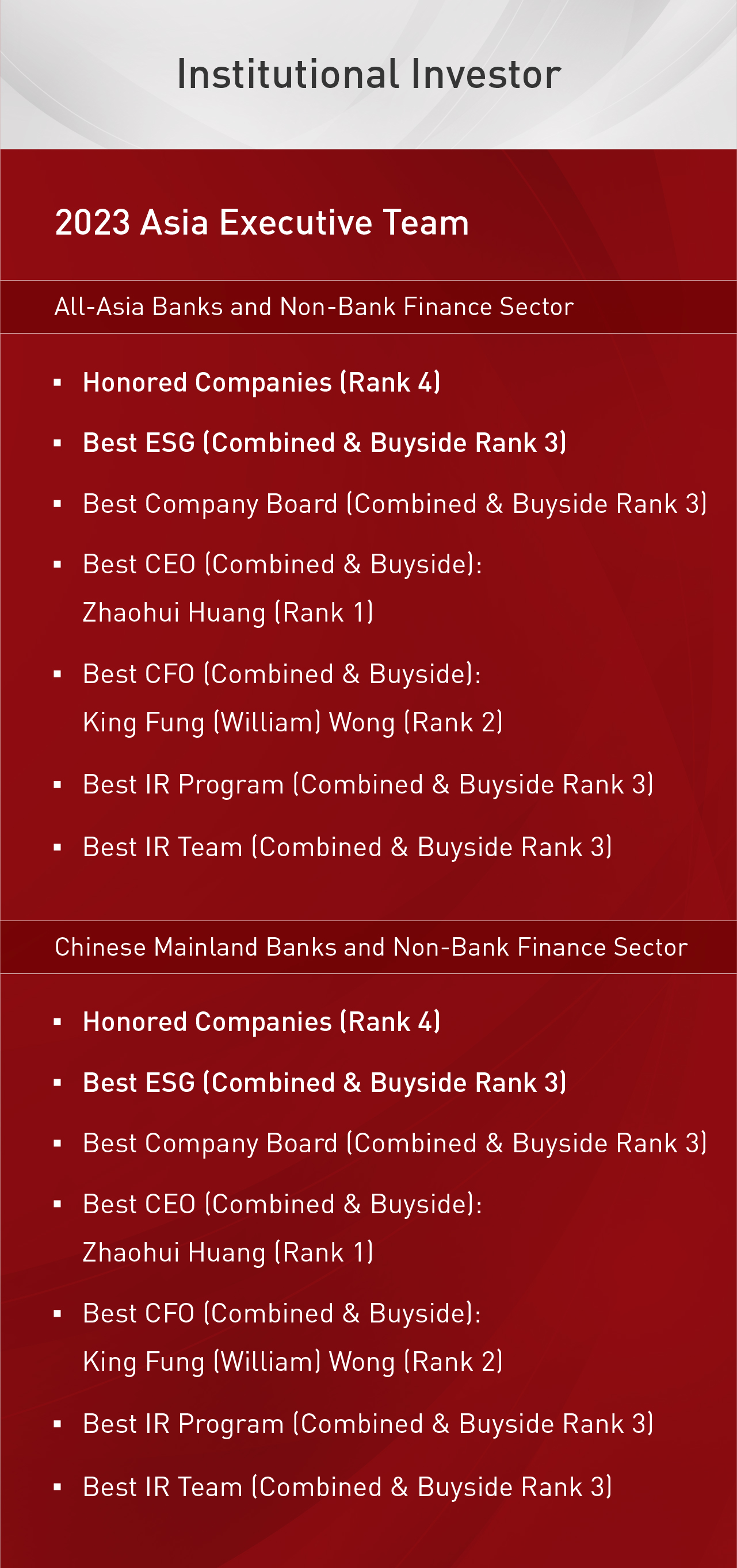 For over 30 years, Institutional Investor has recognized people and firms in the financial services industry for excellence. The integrity of Institutional Investor's editorial and research-supported rankings and awards have earned high regard in the industry and continue to set the standard by which greatness is measured. The 2023 All-Asia Executive Team survey results reflect the opinions of 6,474 investment professionals at 1,646 financial services firms.
In the awards organized by Institutional Investor over the years, CICC has accomplished remarkable achievements by winning Honored Companies for five years(2017、2019、2021-2023)and capturing Best ESG for five consecutive years(2019-2023), as well as winning Best CEO, Best CFO, and Best IR Program for several times.
As a leading Chinese investment bank with "Chinese Roots and International Reach", CICC is committed to providing first-rate financial services to our Chinese and global clients. We are looking to improve our responsiveness, adaptability and creativity, with the will to go forward into new territory to create greater value for all clients and shareholders.